backlinking
About Link Authority
Google decided, in its early days, that a hyperlink from one site to another site was a "Vote of Confidence". Google ranked sites with more hyperlinks to it (backlinks) higher.

How To Rank High In Google!
There are only two focuses for ranking on Google:
1) On Page Optimization
2) Off Page Optimization
On Page Optimization refers to the content you place on your web page, and includes, but is not limited to:
1) Heading Tags
2) Keywords and Keyword Density
3) Relevant content
4) Images
5) Embedded videos
6) Meta Tags
7) LSI – Latent Semantic Indexing (Don't ask…)
8) And a few more factors…
A major factor of On Page Optimization is that it is what the searcher is looking for. Google tracks how long the searcher stays on your page. If they visit and immediately hit the Back Button, Google realizes that the page is not that good for that search term.
You can bet that since Google's profits depend on giving very good results, that page won't stay near the top if it is not relevant and the searchers leave too fast.
Bad content will knock you off the top faster than anything your competitor can do.
Good quality content is key. Content Marketing
Off Page Optimization Is Very Different
Google decided, in its early days, that a hyperlink from one site to another site was a "Vote of Confidence". Google ranked sites with more hyperlinks to it (backlinks) higher.
Of course, this was abused by spammers who pointed millions of links at sites they wanted to rank higher.
Google responded by becoming more picky about what hyperlinks it thought were important for ranking a page. Links for "Authority" sites became more powerful for ranking sites. No longer could you buy a $8 domain and put up hundreds of pages with links to your "Money" site expecting to rank higher.
It all comes down to…
What are "Authority" Sites?
While no one but Google knows the exact criteria, we do know the types of sites Google values:
Social sites, like Facebook, Twitter, LinkedIn, Google Plus and about 150 similar sites.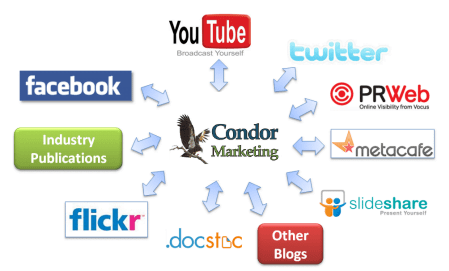 These sites receive a lot of traffic and interaction by their users. Plus you have to join, which makes it more time consuming and difficult for spammers to take advantage of them.
So once you create great content, if you want to rank your site, you need more backlinks than your competitor.
The process is very simple DIY SYSTEM:
1) Research and make a list of social sites.
2) Sign up and fill out the profiles on 150 social sites
3) Log into them individually and post a unique piece of content with a link
4) Add more profiles as one only will not likely be enough
5) Change your IP address through proxies so you look like an individual and not someone logging into multiple accounts to spam the site with backlinks
6) Post at all different times so your audiences around the world all see your posts
7) Did I mention that you will have to solve Captchas? Those irritating little images with hard to read text that seem to pop up all over the place.
Yes, I said "Simple" but not easy…
It is a lot of work. If it takes 15 minutes to set up a profile, then for 150 profiles, you are looking at 37.5 hours of work. That is almost an entire work week just setting up accounts. Not only is that a ton of wasted time, it's boring as hell.
And if you want multiple profiles? I hate to think about how long that will take.
Then you start posting on each account…
Doing it yourself is a nightmare. You could do it but why not do what you do best and leave the posting and marketing to us here at Condor Marketing
What We Offer Done For You

 Account Creation: We will create over 150 profile sites.
Content Creation: We will create and publish original content for you.
Syndicate: We will syndicate your content to over 100 high PR authority sites.
Drip feeding the syndication over days, weeks or even months for a natural link building process, building you controlled, slow, and consistent links.
Sydicate your own RSS feed helps build your sites traffic by distributing your best content via RSS Feed to webmasters hungry for content in thier industry.
Blog Posts, YouTube Video & Tweet Syndication – Building backlinks to your syndicated content for supercharged link juice.